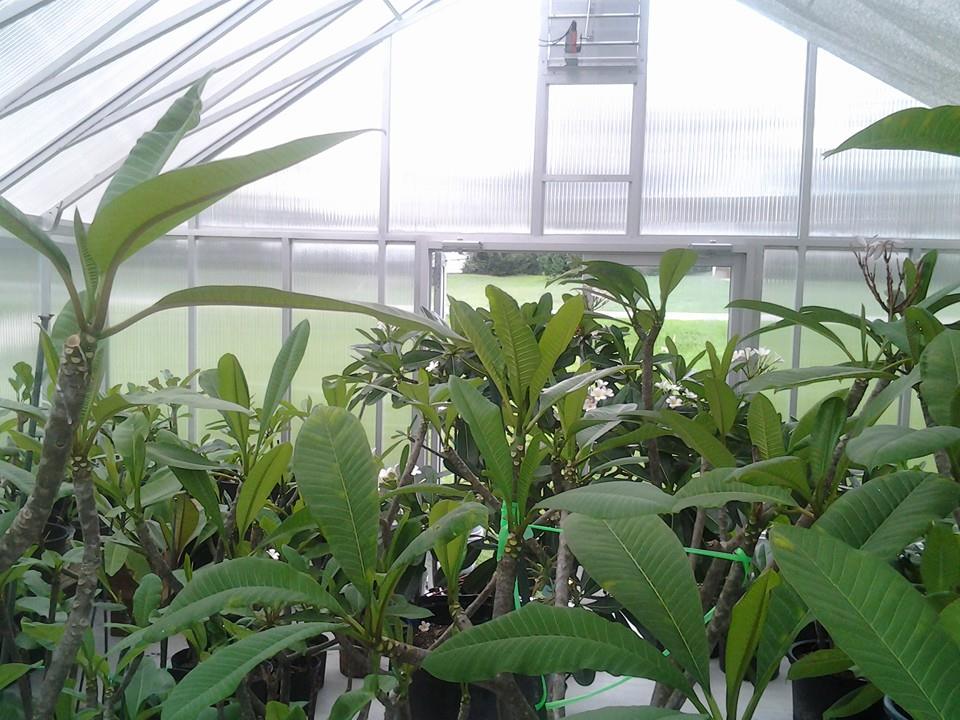 Greenhouse Growing
Mike Atkinson wrote an article on the use of a Greenhouse for Plumeria.  I think most Plumeria Growers would agree with Mike, the main use of a greenhouse is to root cuttings, germinate seeds, and winter storage of mature or potted Plumeria.     For me, I am hoping to expand the use, growing mature Plumeria year round in the Greenhouse.    The big question is why?   When most growers move their plants outside in the Spring thru Fall.    I'm a retired Director from Lockheed Martin working mostly in the Technology and Program Management arenas and I have a natural need to analyze and control.   Learning what works and what doesn't, and controlling my growing environment with heat, water and fertilizer will fulfill my analytical and controlling obsessions.     If Botanical Gardens or Arboretums have done this for decades, I should be able to accomplish this on a much smaller scale……   Finally, the greenhouse was a retirement gift from my wife, so I wanted to make sure I did it right.
I would like to make this a living document and journal my experiences though out the year documenting my successes and I am sure failures.  Understanding I live in North Central Alabama, so growing habits may be different for you.   But I would like to capture and share, how my Plumeria react to Greenhouse growing.   What temperatures, humidity and light conditions do best, when to use a shade cloth, why a shade cloth, how to manage insects, how to keep the Greenhouse heated in the winter and cool in the summer, supplemental lighting.    Also included are the basics of a good Greenhouse.
Baseline.
So here is a photo of the Greenhouse, or as Thomas Cox called it, 'Plumeria Spa'.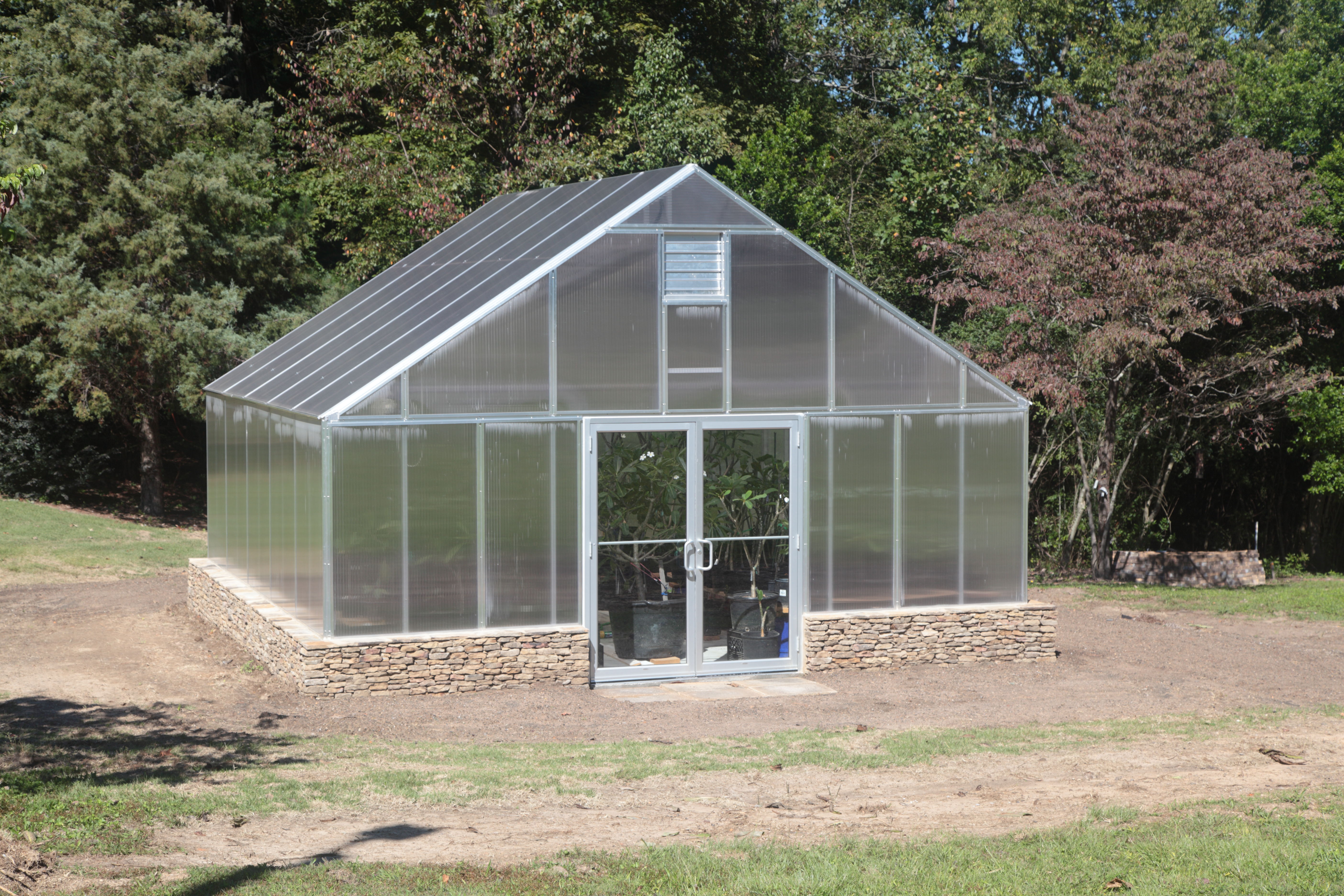 My Greenhouse is a 20×20 5-wall Clear Polycarbonate on the walls and 5-wall Tinted Polycarbonate on the roof.    The tinted poly is intended to filter the sun and assist in reducing the heat in Summer.   Included is an Exhaust Fan controlled by a thermostat to push out the heat within the greenhouse in Summer, and two circulating fans to consistently move the air.    Finally I have a Natural Gas 100,000 btu Hot Dawg heater that is also thermostatically controlled for those cold Alabama nights.  Right now my plan is to keep the temperature no colder than 60 degrees to encourage continued growth thru Winter.
The Greenhouse front faces South and receives full sun all day long.  I ran utilities from our house, so we have Electric, Natural Gas and Water access within the Greenhouse.
I am also looking into supplemental lighting.   Now that the winter months are creeping up on us and the daylight is decreasing I invested in T5 Lighting Systems for the Greenhouse.    They are supposed to arrive next week, so more to come on this topic.
Basics of a Good Greenhouse
Why do I need a Shade Cloth?   The issue with a Greenhouse is not 'how am I going to keep it warm in the winter?' but 'how do I cool this damn thing down in the summer'!   A shade cloth blocks a percentage of the sunlight and assists in the moderating of temperature.   There are various types of shade cloths, but I use Aluminet.   Aluminet 70% shade allows 30% light transmission. The 70% shading factor and maximum cooling ability of Aluminet makes this the perfect solution for shading greenhouses. Aluminet is a special knitted screen made from metalized HDPE giving the fiber durability and longevity. These properties allow Aluminet to function like a mirror during summer months as its unique aluminized fibers reflect unwanted sunlight and heat from your greenhouse. These same properties also serve to retain valuable heat during the winter months.
What happens when power is out?  How are you going to heat the greenhouse?    Again a plan is needed to ensure your plants don't freeze to death because of a winter storm has taken out the power.   For me, we have a backup generator for the house, and I have the greenhouse attached to it.    Another solution might be a Kerosene Torpedo Heater that does not require electricity.
My Journal
Alabama temps in early October are still in the mid 80's and evenings are in the 60's.     I moved my Plumeria into the greenhouse in early-September, mostly because of my eagerness to learn how to best utilize my new toy.   As expected, many of the plants were stressed/shocked moving them from the outside to inside and many of the leaves yellowed and dropped.   In preparation for the move, I defoliated most of the leaves, however I still had some yellowing.      The yellowing has ceased and I have new leaf and inflo growth.
I can see that heat will be an issue in the summertime.   Outside September temperatures were in the 90's and the Greenhouse Temps rose quickly.   Using the Exhaust Fan I was able to maintain a temperature of 101 degrees inside.      I could see some of the plumeria branches had signs of stress and 'wilting or stress marks of dehydration' on the branches.    By drenching the pots, the plumeria would re-hydrate overnight.      So I have several months to figure out how to properly cool down the Greenhouse.
While one of the main purposes of a greenhouse is to keep your plants warm, excess heat will do far more harm than good. It is important to make sure that your greenhouse does not overheat. If it is too hot your plants will show signs of stress. If plants appear to be wilted despite watering or are failing to produce fruit, heat may be your problem.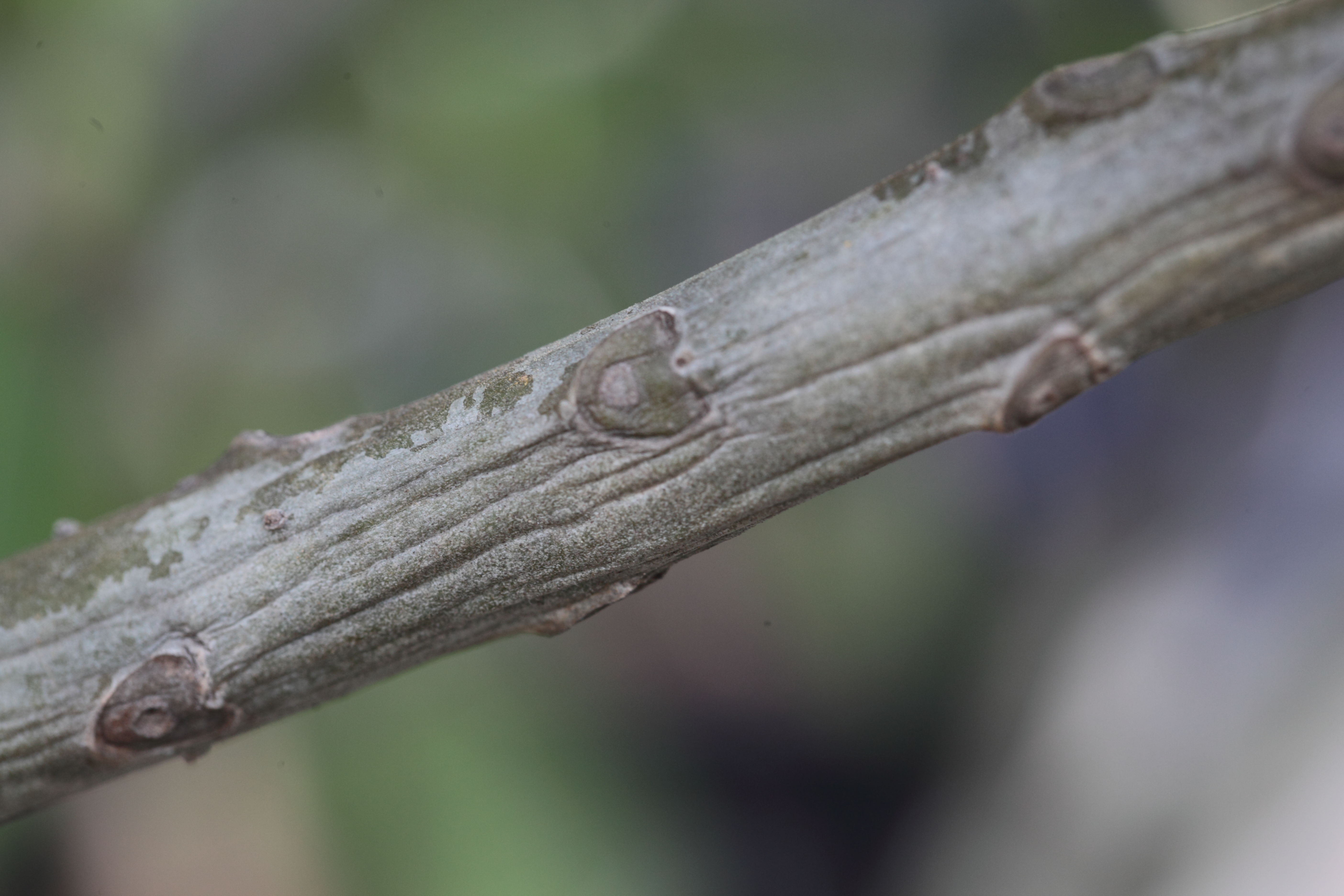 One of the simplest ways to prevent overheating is the use of a shade cloth This will help to block out some of the sun, which is the primary source of the heat. Shade cloths are most typically used from around June to August (depending on the climate), when there is plenty of sun for your plants.
Ventilation is  important in a greenhouse for many reasons, but during hot weather it is especially crucial. Circulation fans will help to keep the greenhouse evenly warmed, while exhaust fans will push out stale air so that fresh air can move in. Proper ventilation also prevents pest infestations, which can be a problem when plants are stressed.
In some locations the only way to sufficiently cool a greenhouse will involve the use of an evaporative cooler.  These small units will allow heat to leave the greenhouse, keeping your plants cool.  This is something I plan to investigate in the summer if I decide to grow my Plumeria indoors all year long.
November 2014
I now have almost two months  of experience under my belt with my Greenhouse. What have I learned so far?
1.  Heat can be my friend, and can also be an enemy.
2. Winter is approaching, what happened to the light?
Having an exhaust fan in the greenhouse is designed to push out the hot air.   It is thermostatically controlled and does a great job pushing out the hot air and bringing in fresh air from the outdoors.    Some of my plumeria had suffered from heat stress and displayed signs of dehydration, simply because the temperature in the greenhouse rose quickly and I did not have the thermostat set correctly.   So now I have the exhaust fan set up at 90 degrees, and for now everyone appears happier.
I really expected once I placed my Plumeria in the greenhouse and kept the temps above 60 degrees they would not drop into dormancy and would provide me a lush tropical escape throughout the Winter.    Well that damn Mother Nature wanted to make sure I was on my toes and reminded me that the daylight window has decreased significantly.    So now I was forced to add a lighting system inside the GH.     I explored several  lighting solutions and was recommended by my Greenhouse Manufacturer and Birmingham Botanical Gardens to use T5 Grow Lights, rather than Halide or High Pressure Sodium or LED.     T5's come in Grow colors to promote leaf growth and Bloom colors for flowering.    I have an eight light system and in each ballast I have two blooms and six grow bulbs.       So let's see how they work.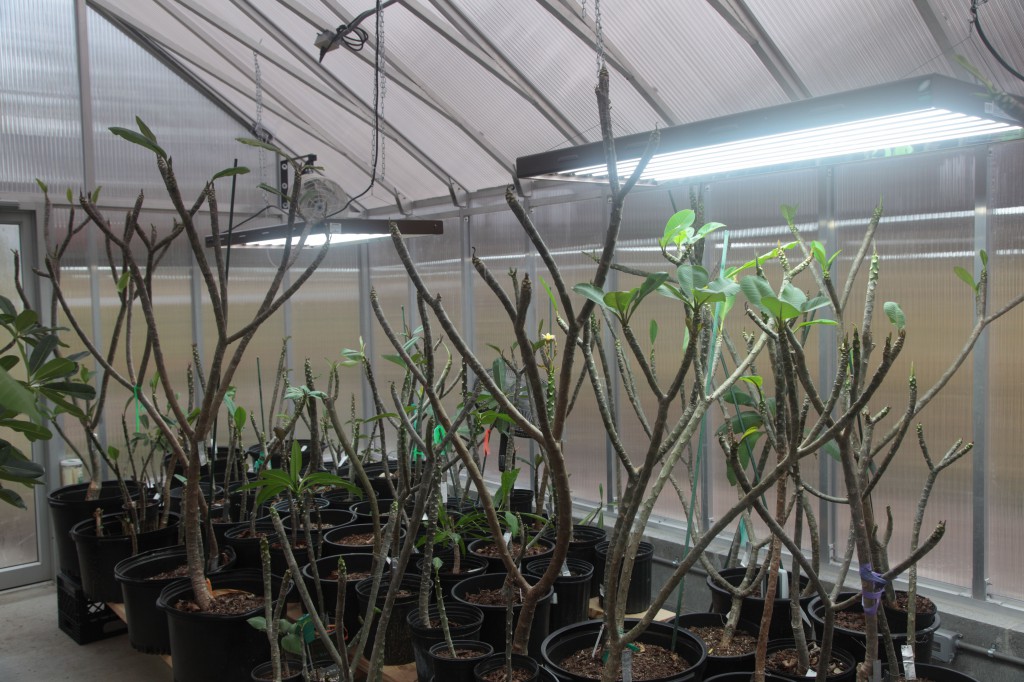 Resources –  Prior to purchasing my greenhouse I researched as much as possible on the internet until my head began to hurt.     Talking to individual Greenhouse Manufactures was extremely helpful.   The Alabama Agriculture Extension was USELESS.( I won't elaborate, but it fit the government stereo-type).  Also the Birmingham Botanical Gardens was also extremely helpful in sharing information.