Plumerias in Southeast Texas: A Story of Addiction
In the spring of 2000 my husband, Fred, and I were enjoying an afternoon of shopping at a local flea market that is held the 2nd weekend of each month in a small town near where we live. Vendor after vendor had wares to offer, everything from saddles to antiques and anything else you might expect to find in a flea market. It was there that I was first introduced to Plumerias……well, perhaps I should say a display of sticks ranging in length from 6 to 8 inches long. As I began to talk with the vendor, my interest really peaked and I decided to buy three of these odd looking "sticks". Knowing absolutely nothing about Plumerias, I did exactly as I had been told by the seller and stuck them in a pot with some soil, put them on our concrete driveway and forgot about them! To my delight and surprise, the little sticks grew and within two years I had beautiful white and yellow flowers which would eventually lead to my complete love affair with these wonderful plants!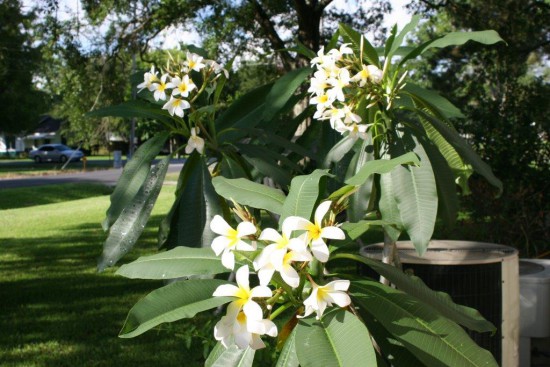 Over the next four years, I continued to buy Plumerias here and there. Many of my attempts at rooting cuttings ended in disaster; however, by the end of 2005, I had accumulated nearly 30 plants and cuttings which were hardily growing around our house. By this time, and to my husband's disdain, they had taken over the area in our yard that once was dedicated to his vegetable gardening.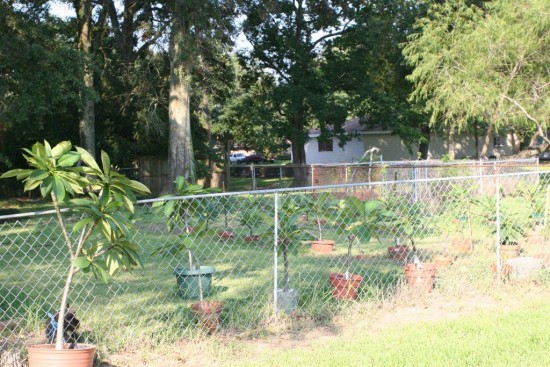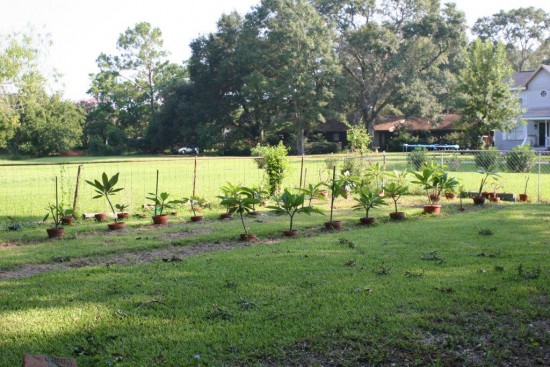 In September of 2005, life, as we knew it changed. Nederland, the small town in which I live, was hit hard by a visit from Hurricane Rita which spread devastation across our community and others along the Gulf Coast of Texas and Louisiana. Homes and businesses alike suffered extensive damage. Fortunately, my Plumerias which had been tucked away in the garage before the storm, suffered absolutely no damage although I cannot say the same for our house or the large oak trees which had shaded our home for over 60 years…..the home that Fred grew up in. In a matter of a few hours our back yard which was once a wonderful shade garden with Oaks towering three stories had been reduced to a pile of rubble which words cannot begin to describe!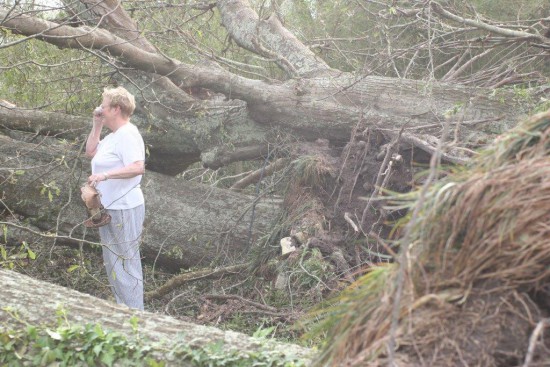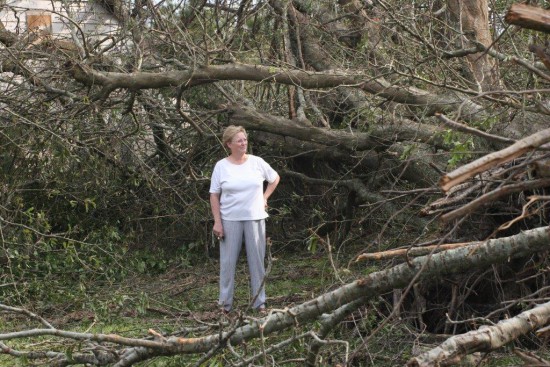 I will never forget how my heart sank as I stepped into the back yard the day after the storm …….Fred and I looked at each other in utter disbelief as tears began to stream down my face as I realized, that never in our lifetime, could we replace the statuesque trees under which he had played as a child.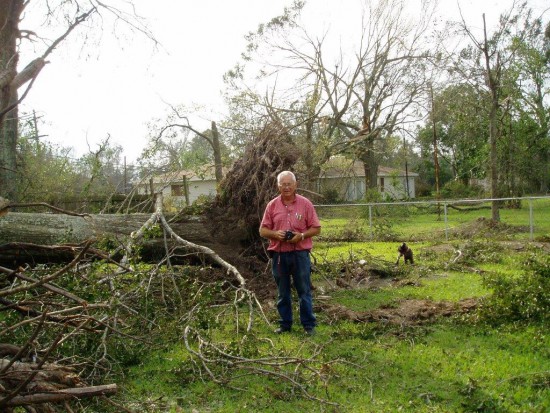 The next several months would be dedicated to cleaning up and removing the trees from our yard. A process that was prolonged because of the mass destruction to the area that created a backlog for both insurance adjusters and tree removal companies as well. After waiting for what seemed like an eternity, the day finally came when the heavy equipment from the tree removal company moved onto our property. A sense of sadness continued as I watched the heavy machines move into position to lift the trees from the roof of our house and with the buzz of large chainsaws the mighty giants were reduced to huge logs. Ten trees were lost in all.
By spring of 2006, our once shady yard was now an open area which was flooded with the bright Texas sun each day. With spring, also came the time to move my Plumies from their winter haven in our garage out into the warm, and now spacious open area. In our acre and half yard, my forty Plumeria plants suddenly looked a little lost in all that open space ………..it was at that time I realized that while we could never replace the large Oaks, I could fill the area with beautiful Plumeria trees and so the story goes!
Living on the usually warn and sunny Gulf Coast of Texas with large amounts of rainfall and consistent high humidity provides a near perfect setting for growing Plumerias…….that is, with the exception of the occasional freeze that we experience during the winter months. While extremely cold weather is the exception rather than the norm, the fact remains it does happen and as those of us who grow Plumerias know that it can quickly decimate a Plumeria grove. In order to avoid any chance of freeze damage to my plants, they are grown in pots with the exception of 5 large trees which are planted in the ground. To most folks in the USA, November and December brings a time for holiday planning and decorating……. for me, and other growers in the area, those things must wait until all of our Plumeria plants have been safely removed from the yard and stored away for the winter season "just in case". What about the 5 trees in the ground, you ask………well, Fred digs them up, wraps their roots in burlap, and they are also stored in the greenhouse for safe keeping.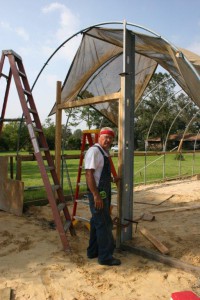 By August of 2006, the plants had outgrown the garage as far as storage space went and Fred, after considerable discussion, agreed we needed a greenhouse. I located a 16 ft. x 36 ft. greenhouse at a local landscape company which had been damaged by Hurricane Rita to the point that only the "bones" were left. After a brief discussion with the owner and offering to buy the remains, a deal was struck, he gave the structure to me in exchange for moving it off of his property. Enough said! We had a…..well, almost had a greenhouse! ? Fred and my son-in-law set to work moving the pieces and reassembling them on our property. Fred spent the next few months working on the greenhouse and by November 2006, it was "closed in" and the plants were all tucked away safely inside. The heater wasn't yet installed but electric heaters would serve on the nights that the temperatures dropped below 50 degrees. It was, at least, enclosed and would see the plants safely through the cooler temperatures.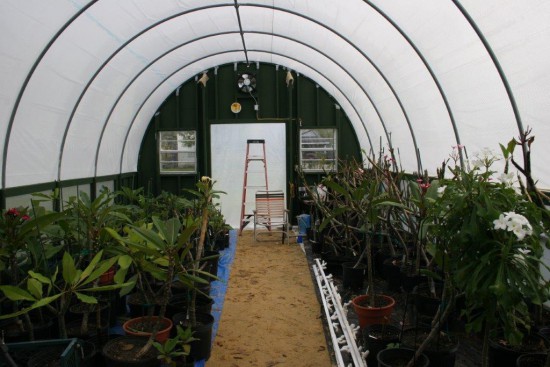 By the spring of 2007, my addiction continued and with the help of sellers from Florida to California and Thailand to Australia my collection continued to grow. Spring also meant moving the plants out of the greenhouse back into the yard……a task which seems to get a little harder each year!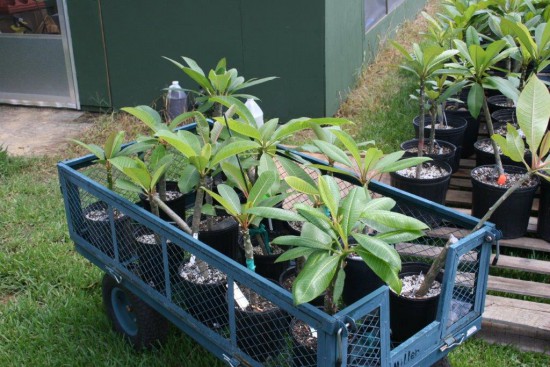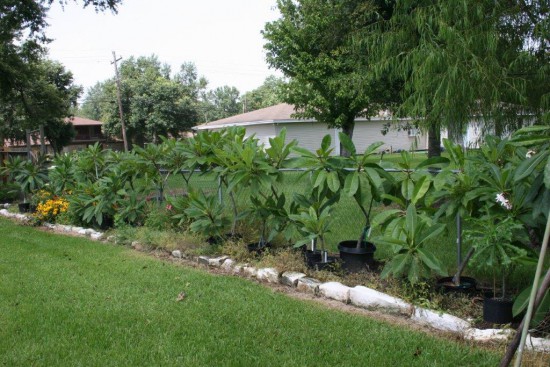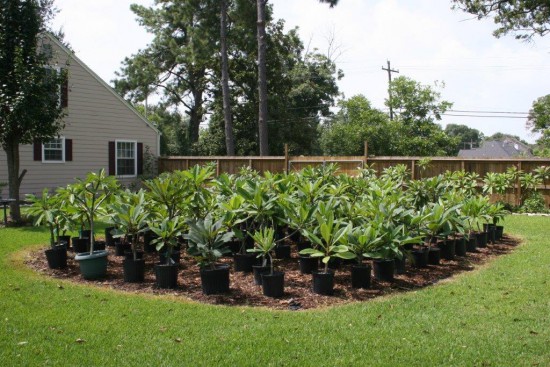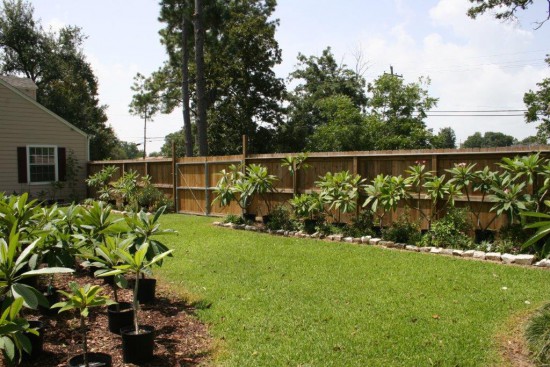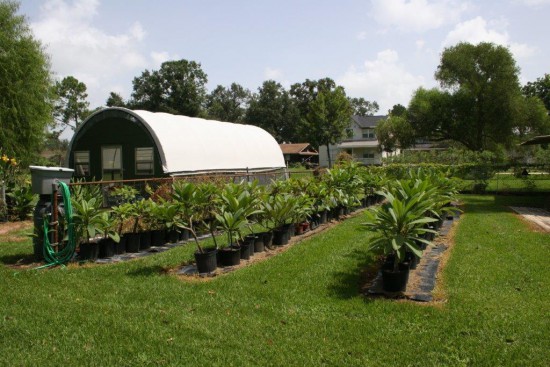 On September 12, 2007, Southeast Texas would once again be visited by a hurricane packing almost 100 mph winds by the name of Humberto. Having been told by the weather service that the storm was minor and would be no more than a tropical storm carrying about 30 mph winds, I went to bed that night with little concern. By three a.m. I woke to the sound of the winds whipping metal and as I looked out across the plumie patch the plants were bent over and the rain appeared to be blowing horizontal to the ground. The large spot lights on our house illuminated the area and all I could do was watch as one plant after another went down! My heart sank as I remembered the day after Rita! Hurricane Humberto formed and intensified faster than any other tropical cyclone on record within 18 hours of landfall and all I could do was watch and pace the floor while Fred slept.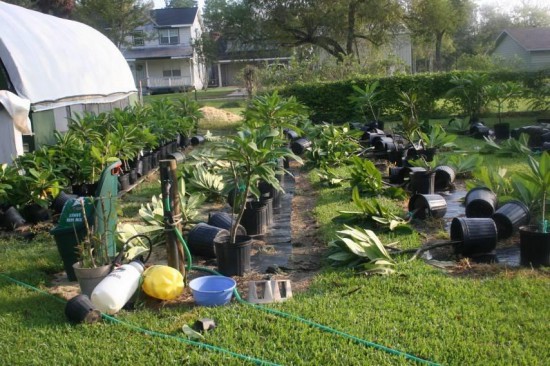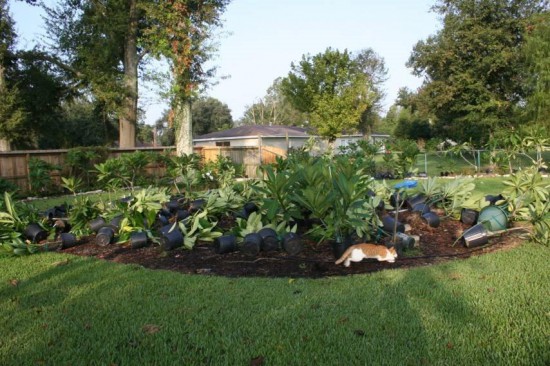 In November of 2007, as time neared to move the plants back into the greenhouse, it seemed to have shrunk in size. Once again Fred would find a solution for our storage problem by designing and building tables for the greenhouse which would give us twice the space as the previous year.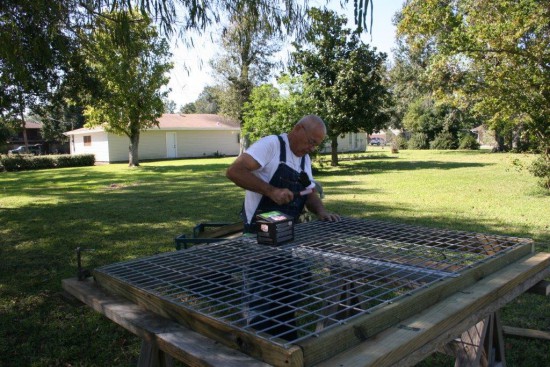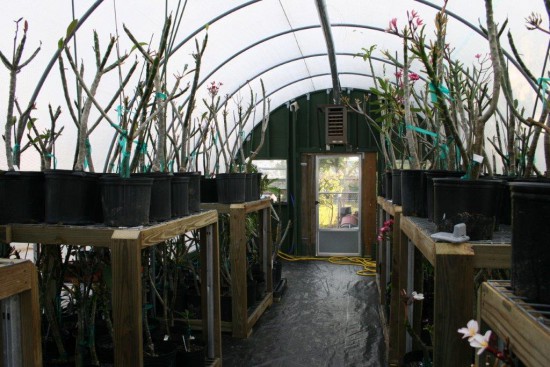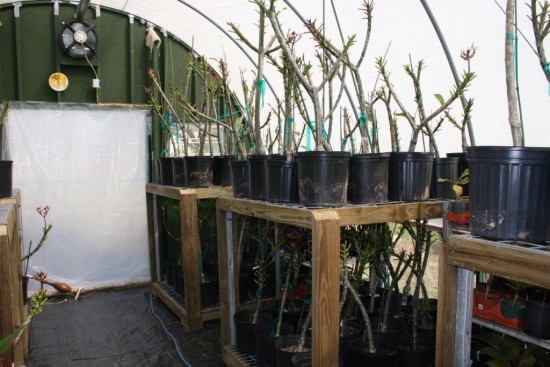 In the fall of 2007, Fred added a 45,000 BTU gas heater to the greenhouse and while the greenhouse is heated, it is not my goal to keep the plants growing during the dormant season but rather just to keep them safe. Therefore, the thermostat is set at 50 degrees F during the winter months. We do not use grow lights; in fact, the greenhouse has a shade cover which is rated at 50%. It is my personal opinion that the natural cycle of these wonderful plants provide a time of dormancy for the plant to rejuvenate itself and therefore nature needs to take its course. About the only thing I do, as far as the plants in the greenhouse are concerned, is to mist them on really hot days to keep the humidity up. I also spend a lot of time talking to them. ? Temperatures can rise quickly in a greenhouse and when the exhaust fans come on, I add a little additional moisture. I do miss their beautiful flowers in the winter ; however, while the others sleep, my beautiful Pudica blooms her heart out until almost spring, when she begins to drop her leaves.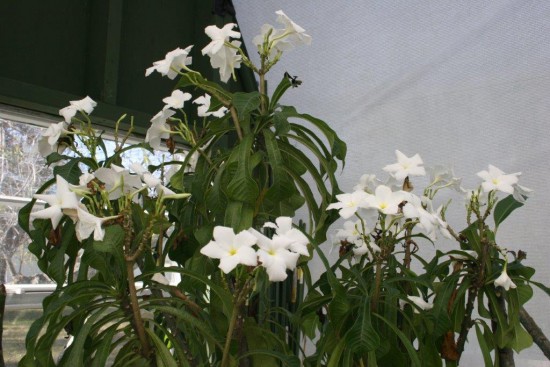 Spring of 2008 has brought new plants to the Plumie Patch and my addiction continues. At this time I have 490 plants with 400 of them being different cultivars. Many are still small, but they will grow quickly I was fortunate to acquire several of the Elizabeth Thornton plants ……………. and then there is the PSA Sale on June 14th in Houston which I'm looking forward to!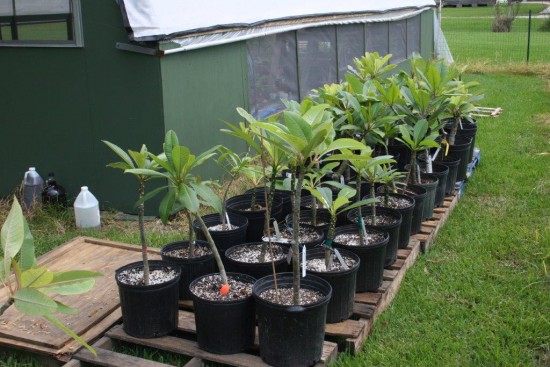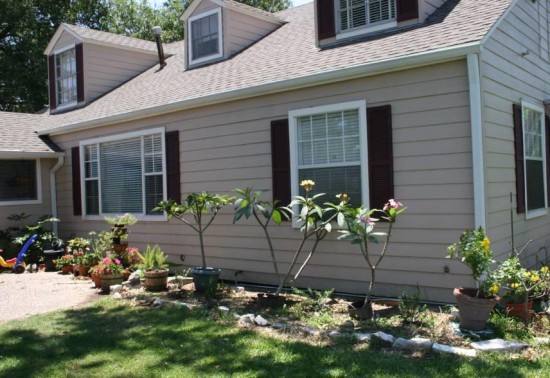 Plumie Patch – Spring of 2008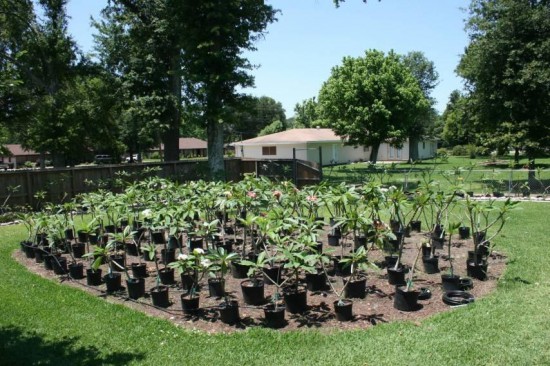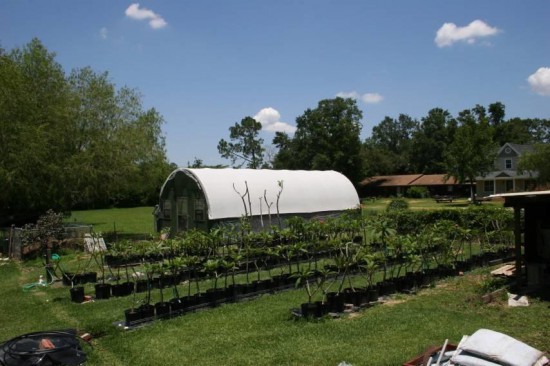 What about seedlings? Well, as a matter of fact, I have about 120 seedlings growing at this time which were planted last year. Of course, it will be a while before they get around to blooming! Fred is really the one who enjoys growing seedlings and I have to give him credit for all of the ones we have at this time.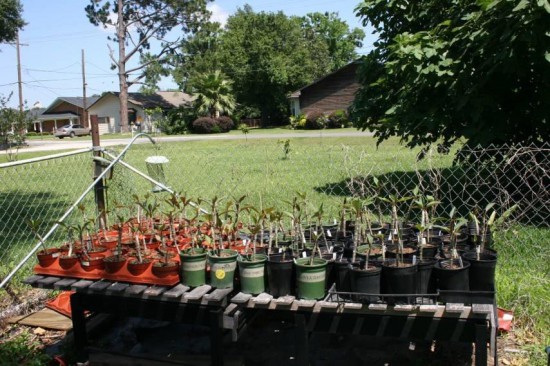 I am often asked about my "fertilizing regiment" for my plants. Well, it is quite simple! I believe in watering weekly with fish emulsion, blackstrap molasses, and a little beer , wine or hard liquor. Once a month, I throw in a small dose of Epson salts during the growing season. Last year, I added a 9 month slow release fertilizer called Dynamite which was recommended to me by Luc at Florida Colors as a side dressing. It is a 13-13-13 blend with micro-nutrients added and the plants seems to do well on that too…….BUT , I still add a tablespoon of dried fish emulsion to the other side of the pot and water with the mixture above just because I like the organic aspect of it! How do I feed this many plumies…..well, I first used a two gallon watering can but these days I use a 25 gallon trailer sprayer pulled by our lawnmower.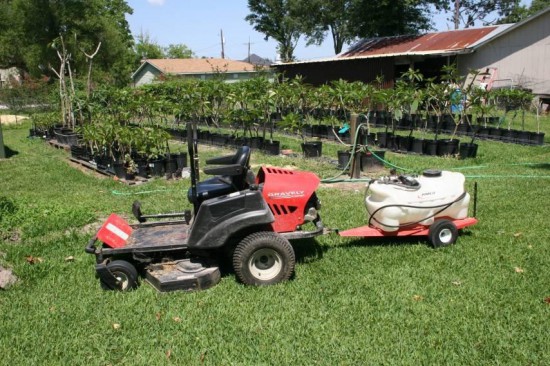 Part of the joy of growing Plumerias is sharing their beauty with others! I tell my friends that every morning is like going on an Easter egg hunt because you never know what beautiful colored flowers will be hiding among the leaves! My grandchildren giggle as they explore "Grandma's jungle" and love to wear the beautiful flowers in their hair. The 2nd greatest joy would be all of the new friends I have made, not only here in the US, but my fellow International growers with whom I share a common interest.
The road to addiction has not always been smooth. There have been cuttings that rotted and plants that have died ……….. all part of the learning curve as my friend, Hetty Ford would say! Thanks to great advice from seasoned growers such as Luc and Carol at Florida Colors and Mr. Bud (Guillot) my Plumie Patch continues to thrive. You can always bet that one of them will have "the right solution" for any problem I run across and I am certain that without their expertise and knowledge life would have been much harder for me in the Plumie Patch! Without my husband, Fred, things would certainly not be what they are today in the Plumie Patch. It would be hard to put a label on him since he has so many talents as the pictures above have shown……but most of all he has never said "enough" where another plumie is involved. I guess the old saying is true……if you can't beat them, join them!
Below are some blooms which have opened since the Plumerias came out of the greenhouse last month. Enjoy!
| | |
| --- | --- |
| Banana Berry | Barbados Apricot Brandy |
| Mahealani Farms Pink | Dwarf Singapore Pink |
| Bhudha Raska | Raspberry Whimsey |
| Salmon Brown | Musk Rainbow |
| Kaneohe Sunrise | Bali High Gold |
| Mardi Gras | Polynesian Sunset |
| JL Bridal | Wildfire |
| Thornton's Gold | Kalina |