Freeze! It Can Happen to Anyone
Even though this article was written in 2007, freezing may happen to us all… in remembrance of several noted plumeria friends: Luc Vannoorbeeck, Ken Ames and Jim Clark.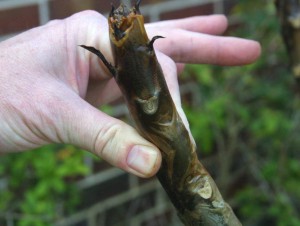 The Big Freeze of 2007
Even though we are supposed to be feeling the effects of "Global Warming" the year of 2007 has been one of the most devastating years in plumeria history. Beginning in the fall of 2006 we began seeing warning signs of the coming harsh winter season. Many of the plumeria growing areas on the US mainland suffered unexpected freeze damage or have endured excessive rainfall. Except for very warm areas along the coast such as Hawaii, the southern part of Florida and much of Southern California, the PSA recommends that plumerias need to be brought into a warm area during freezing temperatures. In this article you will see that Mother Nature has fooled us this year.
In the Houston area, I began to notice that we would have a bad winter when we had repeated freezing temperatures in December, January, February, March and even as late as early April. My 25 year old 'Celadine', which was planted on the north side of my house in the ground for the past 3 years with no problems this year, finally succumbed to the big freeze of 2007. It had just begun to come out of dormancy in March. The tips and claws were glistening, unfurling, but when the below freezing temperatures hit in March, the black tips began to present themselves. The branches eventually became soft, and the rot set in. We had to "stump it", dig it up, and transplant it into a large 50 gallon container so we can protect it in the garage for the upcoming winter of 2008. Eventually by the summer of 2007, new growth emerged from the very old wood, and I have new branches emerging. My 25 year old 'Celadine' was my first plumeria, given to me by my mom and dad as a souvenir from the Honolulu airport.
In late April, Eulas and Lake Stafford, Tex and Kay Norwood and I traveled to Florida to assist Luc Vannoorbeeck of Florida Colors with photographing his seedlings, registering his plumerias, and to identify some of the plumerias at the USDA in Miami. Luc had advised us to come in late April or early May since most of his plumerias are usually finished blooming by June. On the way down to Florida we stopped in Bradenton, Florida to visit with Roger Galle and meet with the members of the newly formed Gulf Coast Plumeria Society. Many of Roger's plants had not started blooming yet. Not a good sign…We had to wear jackets at dinner time… another bad sign…When we arrived in Homestead, Florida, which is located south of Miami. Luc greeted us with a big hello, but advised us to wait to photograph the plants until our last day of the trip because many of his plants had just started to bloom. Luc knew the delayed blooming season was because of the unusually cold spring they had in the entire state of Florida.
Upon returning from the trip, Houston's spring was so wet and rainy that the cuttings that we brought back from Florida took an unusually long time to root. Many of them rotted. Several other Houston PSA members have reported similar problems with trouble in rooting cuttings this year. The Houston Chronicle had a front page article stating that we had only 7 days without rain in July. We have had no hurricanes, but as of Labor Day we have already reached the normal yearly rainfall.
During this summer's PSA yard tours in Galveston we observed some unusual 'Aztec Gold' plumeria blooms in the yards of Loretta Osteen and Susan Casablanca. Normally, 'Aztec Gold' is a large 4-5 inch yellow bloom with highly overlapping petals and intense peach fragrance. Last year during the International Plumeria Conference, these same trees bloomed normally during the usual hot and humid summer of 2006. However, this summer, the cold and wet conditions may have caused these blooms to appear totally different. They were twisted, and measured only 1-2 inches in diameter. The color and fragrance was the same, but the size and shape of the blossoms was totally different from the previous year.
During my recent trip to speak to the Southern California Plumeria Society in San Diego, my speech covered a myriad of subjects, including the recent freeze damage suffered in the Southern California area during the winter of 2007. Roland DuBuc advised me to come in late August or September when most plumerias would be in bloom because of a phenomenon called "June Gloom".  This is a cloudy time in Southern California that delays the onset of the blooms of plumerias.  Therefore I planned the speech for late August. I visited many yards during my stay and saw some terrible devastation in the many lovely plumeria yards of the members in both the San Diego and Los Angeles vicinities. The good news is that plumerias are such survivors, that many are coming back even after being frozen all the way to the ground.
Ken Ames, who lives in Jamul, California, suffered one of the worst freeze damages I had ever seen. The temperatures in his yard dipped into the mid 20s, causing most of his 20-30 year old trees that had been planted in the ground to freeze to the ground. It resembled a graveyard of black bones. However, a few of the plumerias lived, notably the ones closest to the cement on his driveway. Perhaps the warmth of the cement radiated heat, allowing that part of the tree to stay warm. All of Ken's plumerias in the greenhouse did well, and he had many in bloom. His wife Paula's gorgeous rose gardens were blooming beautifully on the other side of the driveway, like nothing ever happened.
Another yard/nursery, owned by Jim Clark (age 90+) was totally frozen. One lone plumeria tree stands. I am not sure which one lived, but the remaining ones had to be "stumped." Some are growing back at the base, but some will never live. Jim lives in Fallbrook California. There are many different microclimates in southern California, so it is impossible to define where a freeze will hit and if you will be spared from the damage. He would not go out and dig them up, or put a frost cloth over all his trees, they were doomed. The wind combined with the temperatures came down the hill and froze them to the ground. Fortunately he had many greenhouses where he had many of his container plumerias, and they were safe.
In the Huntington Beach area of Los Angeles, Bud Guillot suffered some tip damage, which caused a delay in blooms. His trees are so large and healthy that the damage was hardly visible. The cold weather did not affect all of his trees, just a few of them. Of the damaged plumerias, the tips appeared to be blackened, and then new branches emerged. The leaves were very healthy with no signs of rust. The caliper of the branches are so fat, it is hard to imagine any plumeria so beautiful and large! Bud's oldest tree, 'Guillot's Sunset' is 57 years old and was registered with the PSA in 1996. Most of Bud's plumeria flowers were pale in comparison to the ones in the yard of his sister-in law, who lives inland a few miles, where it is much hotter.
The trip was one I will always remember. Thanks to the Southern California Plumeria Society and all the wonderful members and friends who made it so enjoyable. This year (weather related) has been one for the record books. Let's hope it never happens again. The plumeria lovers can't take another one like it!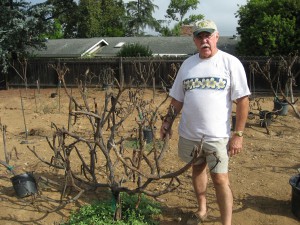 Ken Ames with his beloved 'Celadine' Jamul, CA. His greenhouse plants were blooming beautifully.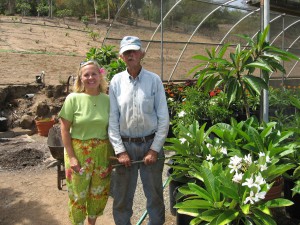 Jim Clarke with a hillside of frozen plumerias. Those under the greenhouse cover were fine.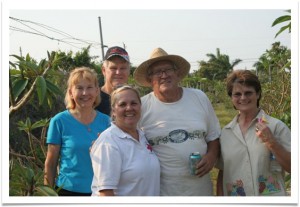 Lake and Eulas Stafford and Kay Norwood assisting Luc Vannoorbeeck with registration of his seedling in late April. Weather was so chilly that we had to wait until the last day of the trip to have more blooms open up.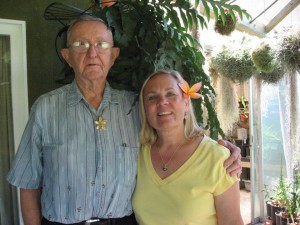 Bud Guillot and me wearing 'Jeannie Moragne', a very pale bloom because of Bud's cool microclimate in Southern California.