I find that most plumeria growers are fixated on weather. We know how much it affects the growth and health of our babies. But I find that most only think of high temperatures, when low temps are MUCH more important. For instance, our plumerias will not wake up in the spring until the low temp gets around the mid-50's It could be 100 degrees but if it's only 5o degrees over night, they just won't wake up.
A good example is how our blooms look on a 100 degree day in August compared to a 100 degree day in October. (Yes, that does happen often in certain parts of southern California.) The bloom in October just doesn't have the depth of color as the one in August, because the low temps in October are usually a good 10-30 degrees less. See the photos below as an illustration.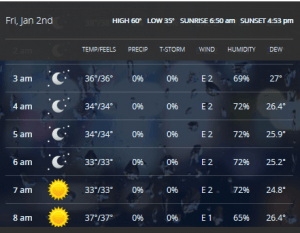 Some other low temp truths I've learned in so cal:
The coldest temps of the day happen between 6:00 – 8:00 am.
The coldest temps happen when there are no clouds. This is when frost is very possible. At night the heat that the ground and plants absorbed over the sunny day escapes at night into the atmosphere. The clouds keep that heat closer and warmer, which means no frost with clouds.
Sometimes the coldest low temps come the next night or two after a storm blows out. It seems that the lingering effects of a cold storm combined with a clear sky can really wreak havoc on our plants.
Jungle Jack's Temptation
| | |
| --- | --- |
| Taken on 8/18/14 – temps that week were around 90 for the highs and 69 for the lows | Taken 11/7/14 when high temps were around 90 and low temps were in the mid-high 40's |
These photos are also a good illustration for the article by Hetty Ford on the problems with Identifying a plumeria.