Rules for Registering a Plumeria (PSA)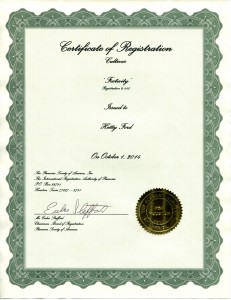 www.theplumeriasoicety.org
RULES FOR REGISTRATION OF PLUMERIA CULTIVARS WITH THE INTERNATIONAL REGISTRATION AUTHORITY FOR PLUMERIAS
Revision 1.6, October, 2009
Plumeria Society of America, Inc.
P.O. Box 22791
Houston, Texas 77227
Any unregistered plumeria cultivar that meets these rules for registration is an eligible candidate. The submitter of an Application for Registration need not be the originator of the cultivar. However, the signature of both the submitter and the originator must appear on the  application. The Certificate of Registration will be issued to the originator unless circumstances warrant otherwise. Since it is the objective of the Plumeria Society of America, Inc. to build a comprehensive and useful International Register, consideration will be given to applications for which the originator is unknown or unknowable (e.g., deceased or cultivars common to a locality).
The Board of Registration understands that registration is a complex and possibly expensive process. If you are unable to comply with this procedure, yet wish to register a cultivar, please write to us at the address below. Explain the difficulty you are having or obstacles you have in complying with the Rules for Registration, why you want to register a plumeria cultivar, and enclose a photograph of the flower. We will attempt to accommodate you should circumstances warrant.
Since plumeria are so easily propagated by cutting, if the originator wishes to retain a proprietary claim to the cultivar, appropriate patents should be obtained prior to submitting an Application for Registration.
When grown from seed, a cultivar must be in its third or later blooming cycle. When propagated from a cutting, it must be in its second or later blooming cycle. A one-of-a-kind cultivar cannot be registered; a minimum of three established specimens must exist.
Document the plant and flower with digital photography saved in RAW format according to the instructions in "Photographing the Plant".
Prepare an Application for Registration as accurately as possible according to the instructions in "Completing the Application for Registration".
A registration fee of $10 (U.S.) is required for all applications.
The completed Application for Registration, digital images saved to a CD or DVD, and applicable fee should be mailed to:
Board of Registration
Plumeria Society of America, Inc.
P. O. Box 22791
Houston, Texas 77227
A control number will be assigned and included in a written acknowledgment within 30 days of receipt as proof of submission.
The application and photographs will undergo a complete analysis and review by the Board of Registration. Please allow up to six months for this review. Should additional information be required, you will be notified in writing.
More info about registering plumeria`